Printful is a robust, user-friendly drop shipping fulfillment platform that allows you to sell items online without having to manufacture and ship them yourself.
Printful integrates effortlessly with WooCommerce, and Printful WooCommerce is one of the finest integrations for establishing a print-on-demand dropshipping store.
Therefore, in today's article, we are going to give you a thorough tutorial on how to integrate WooCommerce with Printful.
Why should you integrate WooCommerce with Printful?
Printful is a print-on-demand dropshipping company that you can use for creating and selling custom products. It is currently one of the most entrepreneur-friendly and popular websites for print on demand. Thanks to Printful, merchants just need to concentrate on their WooCommerce store.
More importantly, Printful can integrate beautifully and easily with WooCommerce. With WooCommerce and Printful integration, you get:
Control over your profit
Automated tax settings and live shipping rates
Free design templates
Product personalization
Warehousing & Fulfillment services
Stress-free shipping
Samples orders
How does WooCommerce Printful work?
When a customer makes a purchase on your WooCommerce shop, the order is transferred straight to Printful. The product will be printed and sent by the company without you having to look into all of the shipping specifics after verifying and confirming product availability.
All you have to do is to upload your original design, and the WooCommerce and Printful team will take care of the rest.
How to integrate WooCommerce with Printful?
Before integrating WooCommerce with Printful, make sure to get the WooCommerce plugin installed.
Step 1. Register on the Printful website
Go to this link https://www.printful.com/ and click on the button Start selling.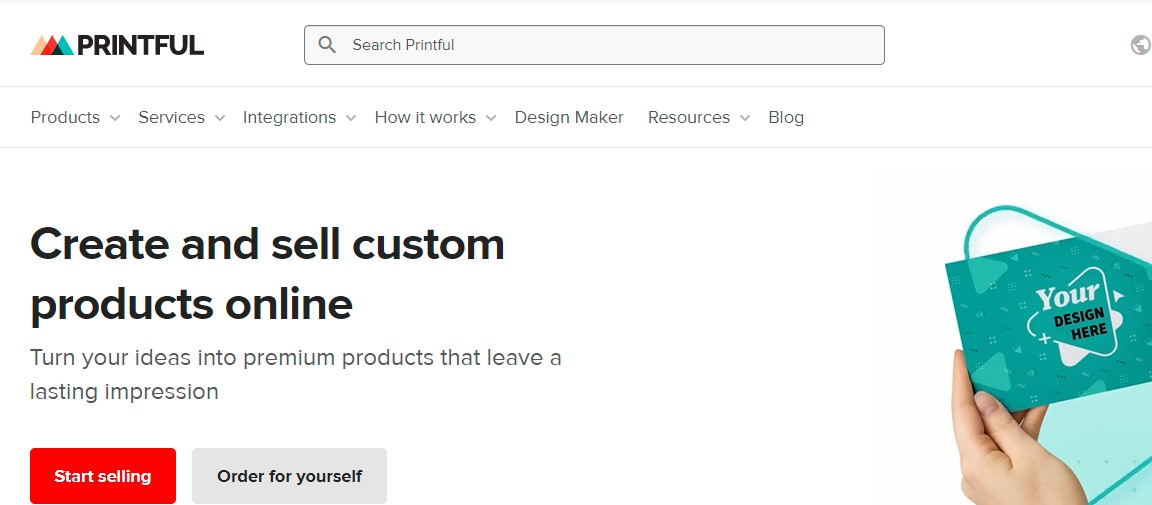 Next, you need to sign up for Printful. Here you can sign up with Facebook, Google, and your email.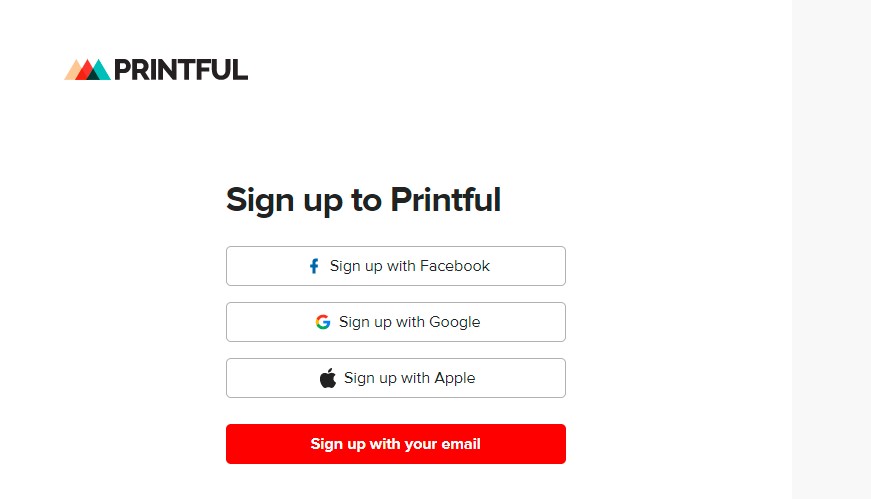 After that, you will receive a confirmation email sent to the email you used during your previous signup. Simply click on Confirm Email Address.
Step 2. Install Printful integration for WooCommerce
In the second step, you need to log in to your WordPress dashboard, then click on WooCommerce > Plugins > Add New as shown below.

Search for the Printful WordPress plugin in the search bar. Then click on Install Now and activate the Printful integration for WooCommerce.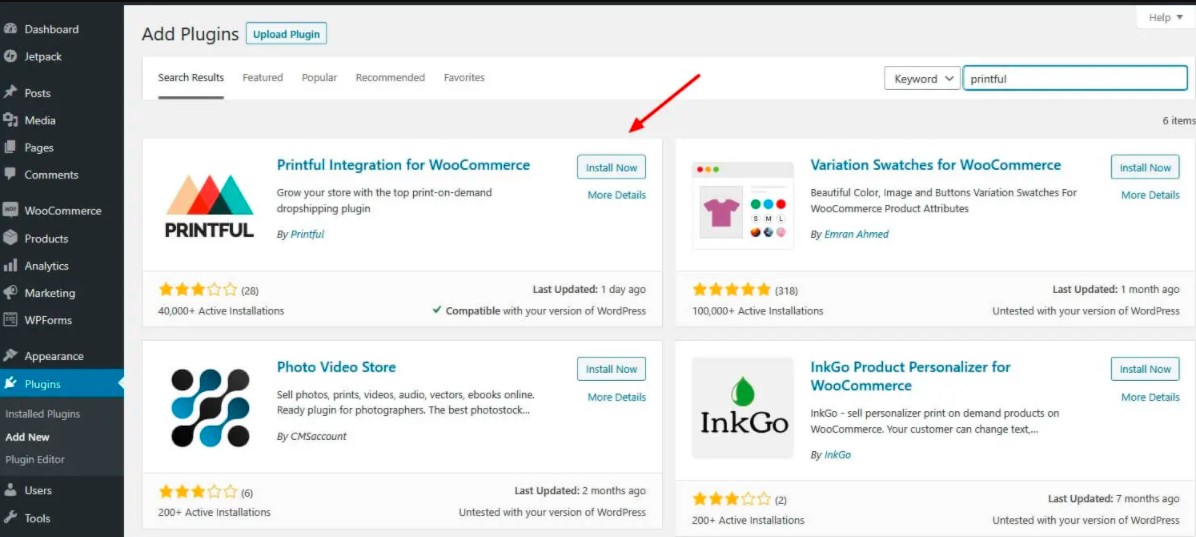 Step 3. Connect it with WooCommerce
Go to Printful from the WordPress Dashboard and click on Connect.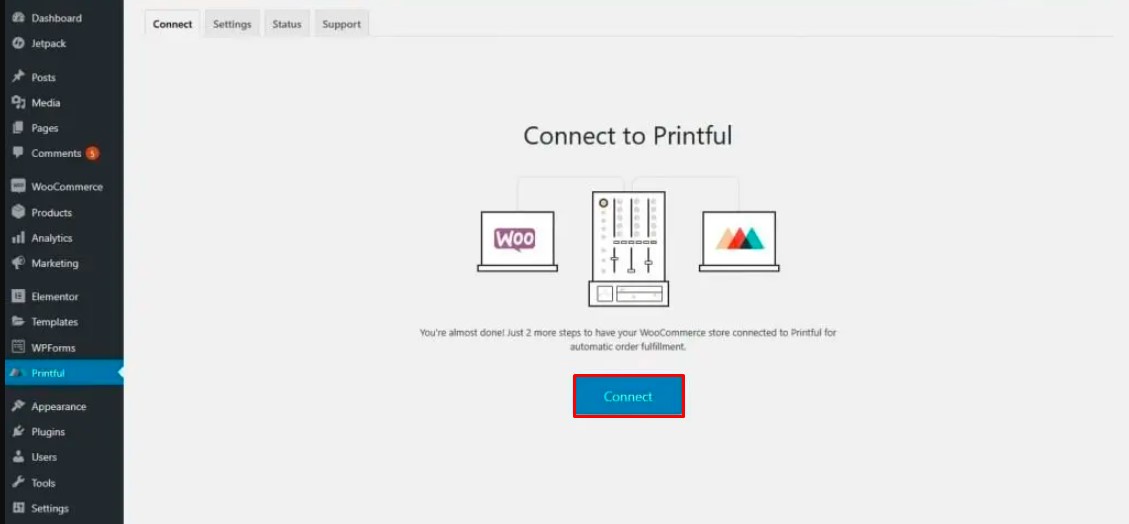 Next, click on the button Approve.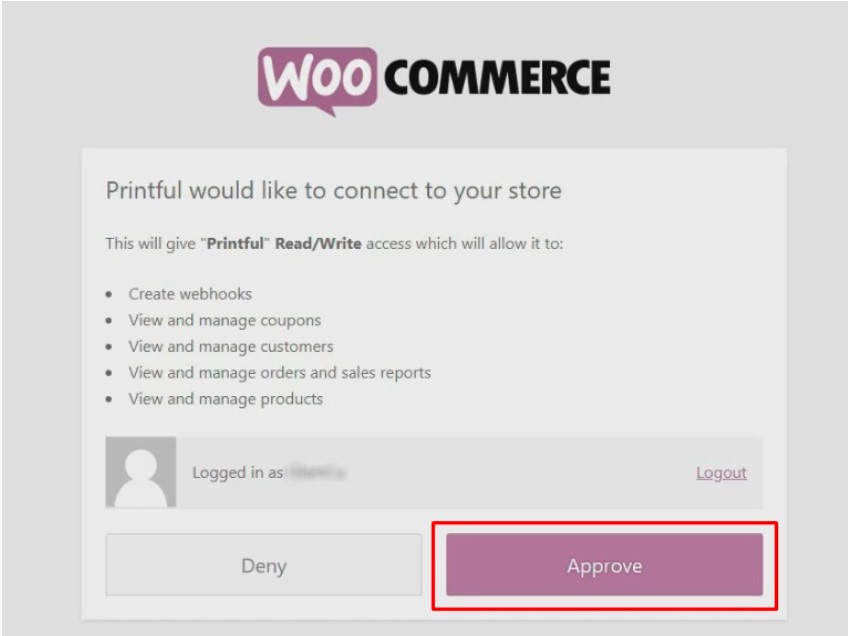 After that, sign in to the Printful account that you have set up in the first step. Then click Sign in under the section Connect to an existing account.

Click on Connect store to (your email address) to confirm the WooCommerce and Printful connection.

Your API will be integrated with WooCommerce automatically.
Step 4. Enable Shipping on Printful and WooCommerce
After that, your Printful WooCommerce products will begin to display on the dashboard. Everything, including orders, reports, and billing, can be managed from here. Additionally, you can check the status tab to see if there are any problems.
You'll also need to configure the shipment options for WooCommerce Printful.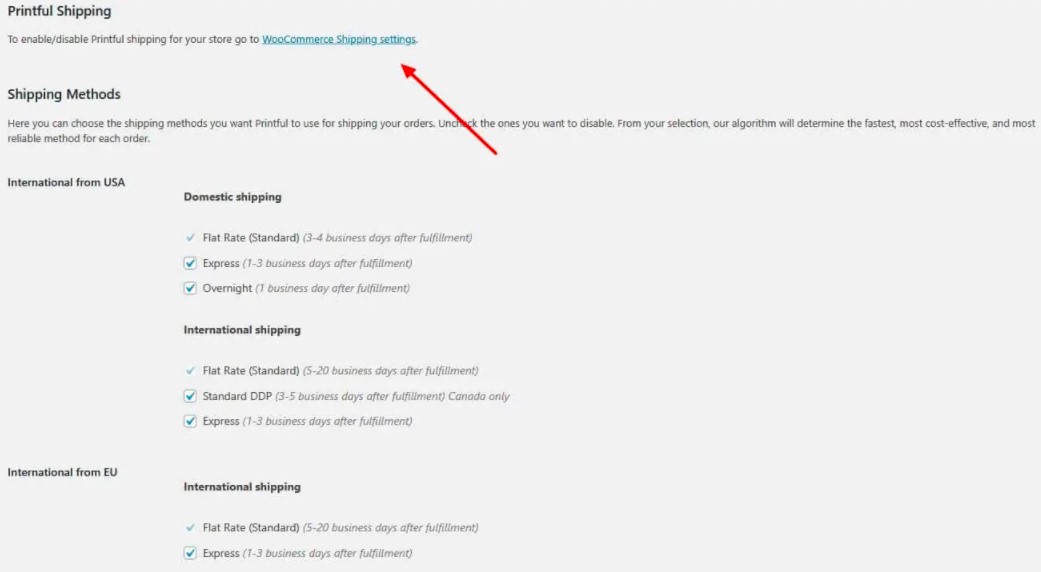 Once you've finished selecting your shipment options, you need to activate Printful shipping in the WooCommerce shipping settings. Simply click on the URL on the Printful settings page to do so.
Then, on the WooCommerce page, tick the Printful shipping checkbox.
And that's it! Those are all the steps you need to take to integrate WooCommerce with Printful.
Common issues when integrating WooCommerce with Printful
1. Syncing WooCommerce gives a 404 error
To fix this issue, please go to your WordPress Settings => Permalinks => Under "Common Settings" choose any link structure except "Plain". For example, "Post name" has been selected, but you could also choose "Day and name," "Month and name," etc.
Click on the button "Save Changes" to confirm. After that, you can try reconnecting your WooCommerce store.
2. Consumer Key is invalid
This means that your Consumer Key was not entered correctly. Therefore, in this case, you need to check if Consumer Key and Consumer Secret in your Woo admin panel under WooCommerce => Settings => API => Keys/ Apps match Identity and Token in your Printful store settings.
3. Invalid Signature
This error basically means that the provided signature does not match. Thus, you need to check if Consumer Secret was entered accurately, if it was, then you need to contact support@printful.com to troubleshoot.
4. HTTP Error 414 Request – URI Too Long
This error can be explained by the fact that server configuration does not support long URLs and your WooCommerce API uses exceptionally long URLs. Therefore, to resolve this problem, you should contact your system administrator and request that the maximum URL length be increased.
It is also likely that this issue is caused by some other WordPress plugins that you install. For example "iThemes Security" plugin can cause this if the "Filter Long URL Strings" option is enabled.
5. The URL is not a valid WooCommerce URL or the REST API is not enabled
This basically leads to your page being returned due to invalid API. Hence, to fix this issue, you need to check the URL. The URL you enter should not end with /wc-api/v1/ and should not end with /shop/. It should just be the URL of the homepage where WordPress is installed.
Final words
Integrating WooCommerce with Printful is simple and beneficial. WooCommerce provides a strong e-commerce platform, while Printful manages all inventory management and shipping problems.
We hope that you enjoy reading this post and also learn something useful from it.
We'll be back with more useful information in the next article. If you have any questions about WooCommerce Printful integration, please comment down below.