eCommerce store owners will be on the lookout for fresh marketing opportunities all of the time. You want to know how efficient and cost-effective a new marketing channel is before you invest in it. Google Shopping ads are a popular marketing tool that provides consistent results for many store owners.
Because Google Shopping advertisements display your products on search engine result pages, they give your products a bigger audience and improved conversion chances. In this article, we'll look into Google Shopping advertising in detail. We'll also go through how to integrate your WooCommerce products with a Google Product Feed.
This article will show you How to Create and Set Up Google Product Feed for WooCommerce to upgrade your online store.
Benefits of Google Product Feed in WooCommerce
When a user searches for something on Google, the ads containing valuable information such as pricing, reviews, and photographs frequently appear in the first fold of the SERP. When compared to text ads, these ads provide more information, allowing customers to make more educated decisions.
Boost the store's visibility
Text Ads are not as informative
Increase the number of qualified leads
It is a lot easier to manage
Requirements before Creating Google Product Feed for WooCommerce
For product feeds, Google has a long list of requirements. Depending on the product category, you may need to meet different standards. You must comprehend these specifications in relation to the things you're offering. Otherwise, the meal may be rejected or the conversion possibilities are reduced—components of a key product feed. You must comprehend the different aspects of a product feed in order to build it in the proper format. We'll go over the most essential ones here.
Here are a few key requirements to keep in mind:
Basic product information, such as unique identification, a title, a description, an image, a link, and so on.
Details about the price, availability, and expiration date, among other things.
Product category and type.
The product's brand name as well as identifiers such as GTIN, ISBN, and so on.
Color, gender, and other related conditions are examples of attributes.
Information about promotional efforts and where a product should be included or excluded.
Details on shipping and taxes.
How to create Google Product Feed for WooCommerce
The procedure of creating and uploading product feeds to Google Merchant Center has been greatly simplified thanks to a plugin. Most importantly, you do not need to be concerned about following all of the rules.
The procedures for using the ELEX WooCommerce Google Product Feed plugin are listed below.
Step 1: Create Product Feeds Options
This plugin allows you to create an XML file that contains all of the products in your WooCommerce store. You can give the project a name, select a country, and choose whether or not to incorporate variations. When the product feed is refreshed, you can set a Refresh schedule (daily, weekly, or monthly).
Step 2: Map product categories by Google Categories
A Google category should be able to be mapped to several product categories.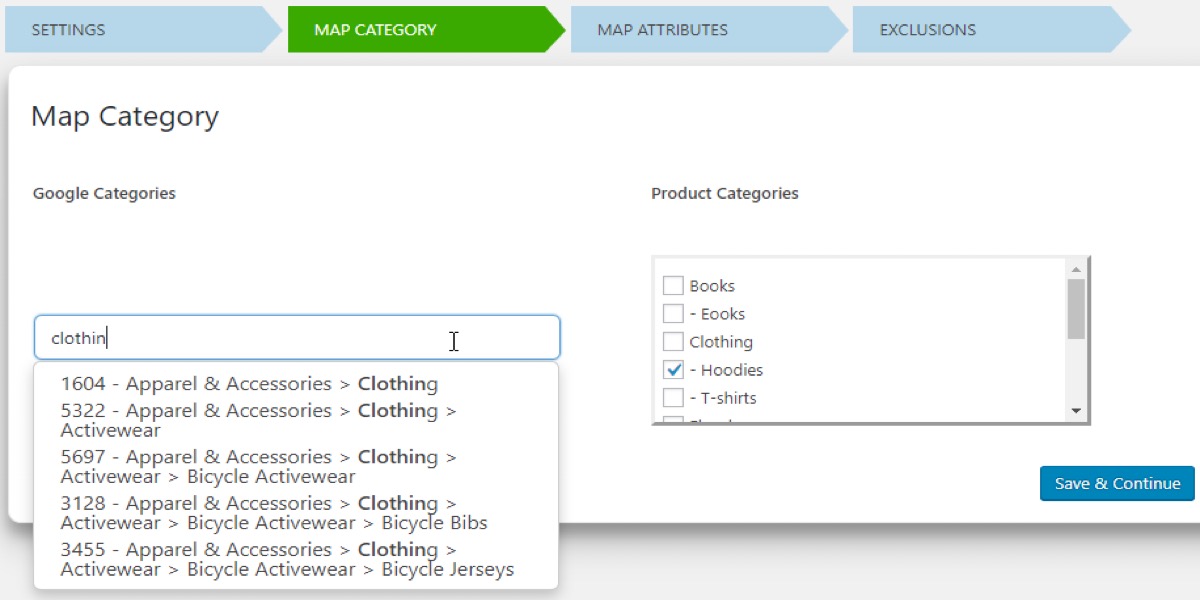 Step 3: Google Maps Product Attribution
The product attributes must now be mapped to Google attribution.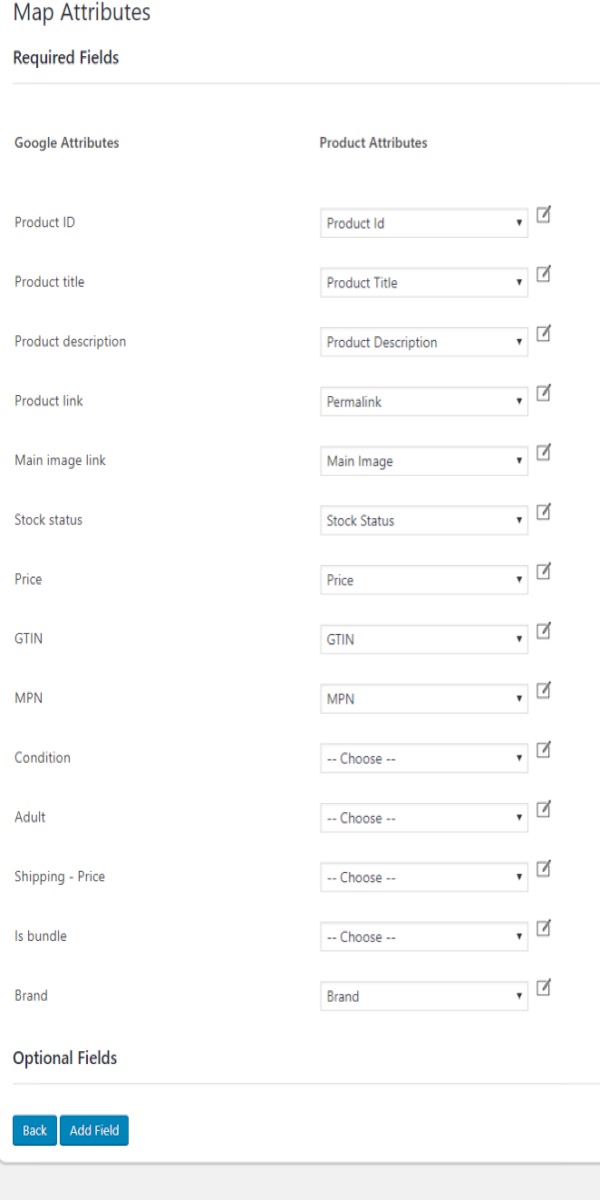 How to set up Google Product Feed in WooCommerce
Step 1: Produce a Product Feed
To generate an XML product feed, click the Generate Feed button.

Step 2: Organize your feeds
The Google product feed has now been generated and is available in the plugin's Manage Feeds section.

Step 3: Product Feeds should be uploaded to your Google Merchant Center account
The product feed must then be uploaded to your Google Merchant Center account. You must supply basic information, an updated schedule, and the file URL for this account.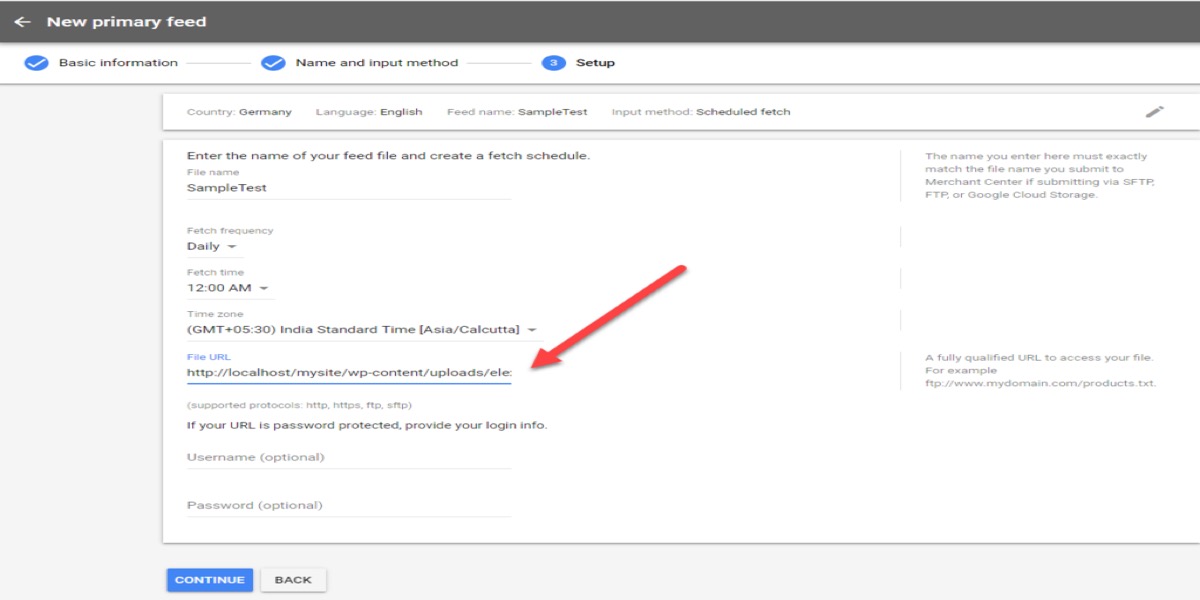 Step 4: Google Merchant Center and Google Shopping should be connected
Last but not least, you must link your Google Merchant Center and Google Ads accounts. Following that, based on your ad settings, Google may consider displaying your products for relevant queries.
4 Best Plugins to create Google Product Feed for WooCommerce
1. ELEX WooCommerce Google Product Feed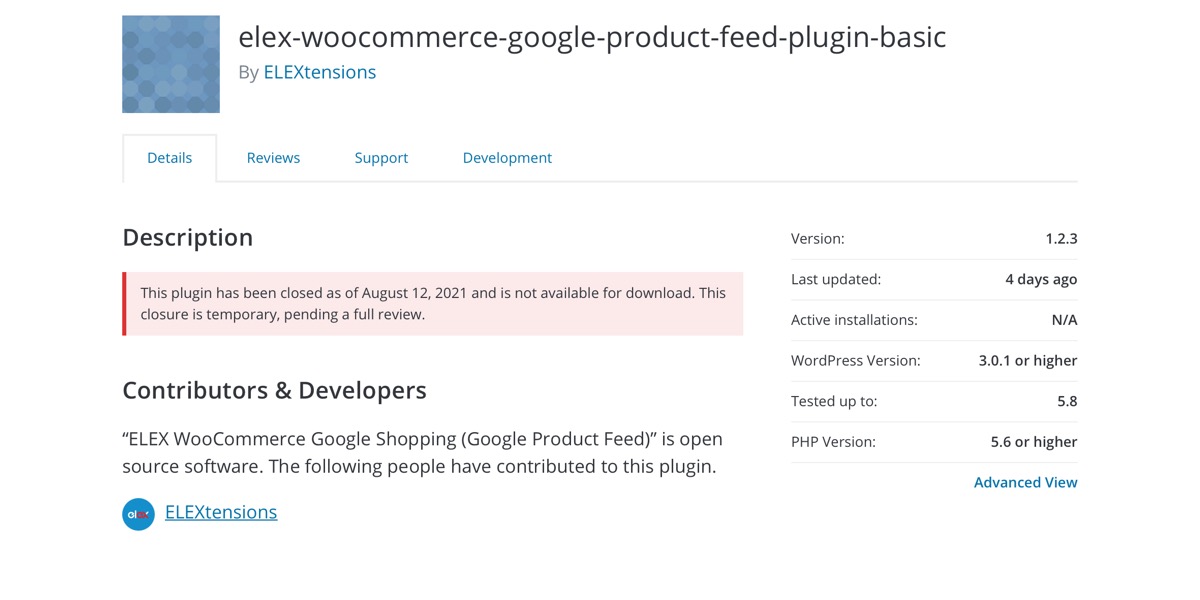 ELEX WooCommerce Google Product Feed plugin is a free WooCommerce plugin that feeds your WooCommerce products to Google so that online buyers may see them in Google search results and Google Shopping Ads when they search for them. Even if you have followed the finest SEO strategy for your WooCommerce product pages to appear in the Google SERPs, this free Google product feed plugin for WooCommerce displays a product preview with information such as the product title, product image, price, availability, color, and so on.
Features:
With the Schedule feature, you may automatically update the feed.
Attribute Mapping using Rules & Conditions is a powerful tool.
Any custom fields can be mapped using Google Product Feed characteristics.
Create and manage many feeds from a single dashboard.
Manage the Google Product Feeds that you've generated.
Rating: 3.7/5
2. Product Feed PRO for WooCommerce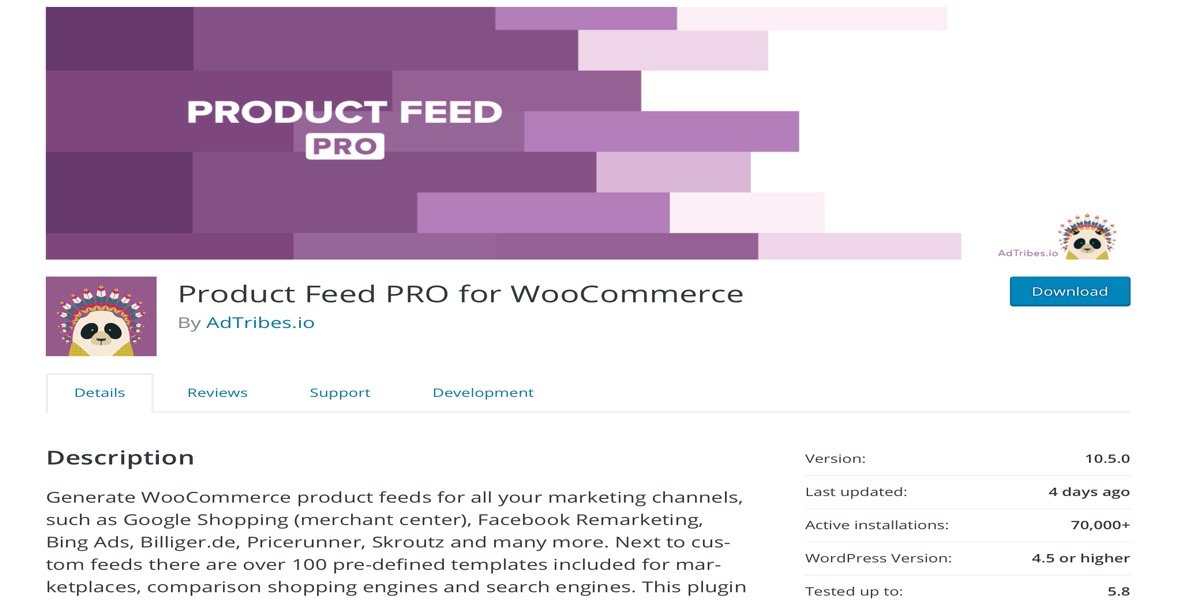 Create WooCommerce product feeds for Google Shopping (merchant center), Facebook Remarketing, Bing Ads, Billiger.de, Pricerunner, Skroutz, and other marketing channels. There are over 100 pre-defined templates for marketplaces, comparison shopping engines, and search engines in addition to bespoke feeds. Product Feed PRO for WooCommerce plugin generates high-quality product feeds for Google Shopping and a variety of other applications.
Features:
There is no limit to how many goods you may create.
There is no limit to the amount of product feeds you can have.
Make your own product feeds
The interface that is easy to use
Support product variants and variables.
Product feed refreshes are scheduled on a daily, twice-daily, or hourly basis.
Shipping zones, shipping classifications, and shipping costs are all supported.
Set product filters and rules so that only the right products appear in the product stream.
Map your categories and taxonomies to those of other channels, such as Google Shopping.
Map your attributes to channel attributes using field/attribute mapping.
Make up your own field names: Make up your own field names and populate them with either static or dynamic values.
Static field values can be added to your product feeds.
Rating: 4.8/5
3. WooCommerce Google Feed Manager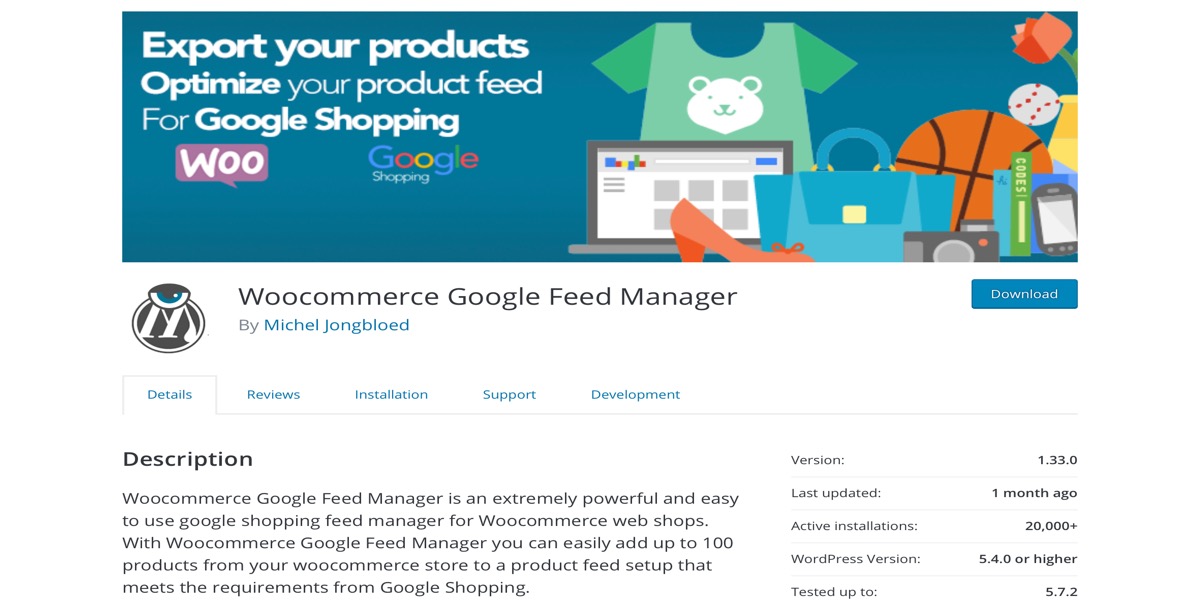 WooCommerce Google Feed Manager is a Google Shopping Feed Manager for Woocommerce web shops that is both powerful and simple to use. You can quickly add up to 100 products from your woocommerce site to a product feed setup that fulfills Google Shopping's standards with Woocommerce Google Feed Manager.
Features:
Connect all the required and recommended fields of the feed with the WordPress database
Tweak the content of every field in order to maximize your revenue from your products in Google shopping
Have very advanced and professional options at the disposal to make products stand out
Use titles different from your shop, change your product google categories depending on title names.
Rating: 4.5/5
4. Product Feed Manager for WooCommerce
Product Feed Manager for WooCommerce generates accurate product feeds that may be promoted on popular marketplaces like Google Shopping, Facebook, eBay, Vivino, Trovaprezzi, Marktplaats, and others. Increase your return on investment (ROI) without the headache. To optimize your product feed for optimum conversion, use Premium features like Category Mapping, Filter, WPML, Google Auto-sync, and more.
Features:
Unique Identifiers Custom Fields
Mapping of Advanced Categories
Support for a Variety of Products
Structured Data Format That Is Accurate
Google Merchant Center Feed auto-sync
Rating: 4.7/5
Conclusion
Users may simply find the things they're seeking for thanks to Google Shopping advertisements. Users may compare pricing and characteristics of similar products, and if they find a good deal, they can also find out where to buy it.
Google Shopping advertisements have a higher conversion rate since they are aesthetically appealing and lively. Furthermore, advertising your products using Google Shopping advertisements is straightforward. Begin by generating a Google Product feed and linking it to Google Ads in the Merchant Center.
I hope you will find this topic about How to Create and Set Up Google Product Feed for WooCommerce fundamental!