Are you looking for a new way of attracting more customers? Lucky for you, we have just the right answer!
Today's article will be focusing on the potential of WooCommerce phone orders for online merchants nowadays. Typically, if you grasp enough information, it can help you to gain higher profits in the long run. Later on, there will also be a guideline on How to create phone orders for your WooCommerce store. Keep reading to find out more!
Benefits of using WooCommerce phone orders for your business
Recently, a rising number of phone payments and orders have been witnessed in the eCommerce industry. So, what are the actual reasons behind this statement? Let's take a look at the benefits of using WooCommerce phone orders:
Time-saving: Just through a phone call, your customers can quickly contact and address what they are looking for without having to scroll through long product pages.
Convenience: No need to remember their credit card number and related information anymore; consumers can skip all those complicated fill-in-the-form steps.
Increasing revenue: Online merchants attract not only youngsters but also elders, most of whom will call for an order instead of sealing the deal on your website. If you are targeting a wider range of consumers, then WooCommerce phone orders would be a perfect choice!
How to create phone orders for your WooCommerce store?
Having acknowledged the advantages of setting up WooCommerce phone orders might make you curious about how to perform such tasks. Then, this section is the perfect answer. We have divided the tutorial into simple steps so that everyone can easily catch up with them.
No more beating around the bush, let's get started:
Step 1: Before getting started
A small reminder for those who are new to the plugin, Phone Orders & Payments by 99w requires a PHP in 7.0 or higher version, a 5.0 WordPress, and WooCommerce higher than 4.0.0. Therefore, please make sure that you have updated your current platform to these requirements before we move on to the next step.
Besides, you will need virtual terminal access and/or a card machine terminal from your payment provider if you want to utilize the virtual terminals and/or card machine terminal capability to make payments via the add/edit order page. When you use your payment provider to connect to your account, you will discover your virtual terminal URL. Depending on the payment service, you may have to request a virtual terminal or apply for one.
While virtual terminals and/or card machine terminals are not required for using this extension, you are able to use it without being prompted to use those types of terminals if you do not want to. However, consumers still have the option to pay by phone at checkout.
Step 2: Activate the plugin
If you have fulfilled all of the mentioned requirements, then all you have to do is to download the file for the Phone Orders & Payments plugin from your WooCommerce > Extensions > WooCommerce.com Subscriptions page: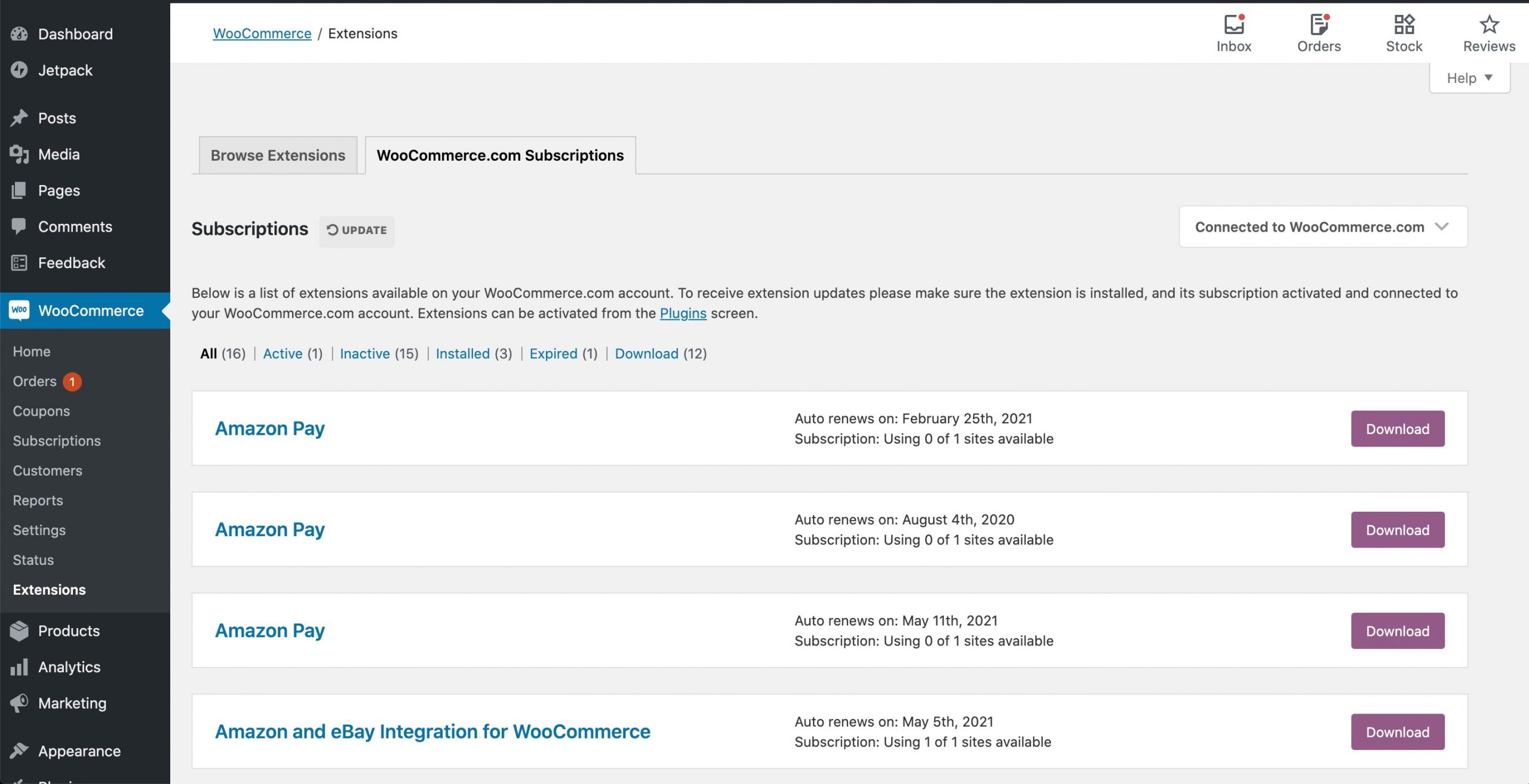 After that, navigate to the Plugins > Add New > Upload Plugin and click on "Choose File" button in the center of the screen to start uploading your downloaded .zip file: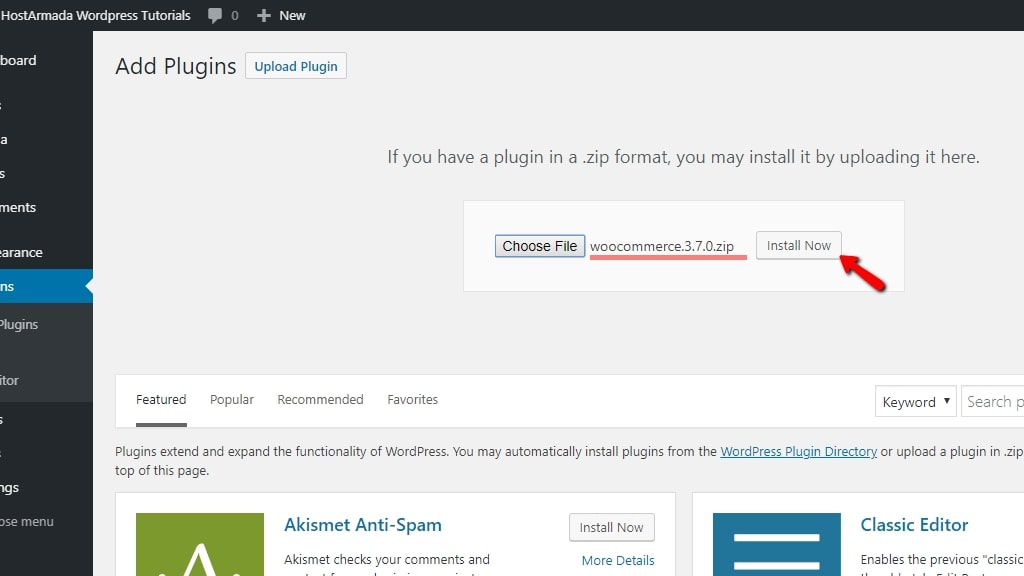 Finally, "Install Now" and "Activate", you are ready to use the extension!
Step 3: Change the settings for Phone payment
Now that your plugin has been successfully installed, we will dig deeper into the configuration steps. Please go to WooCommerce > Settings > Payments > Phone Payments and fill in the form as below: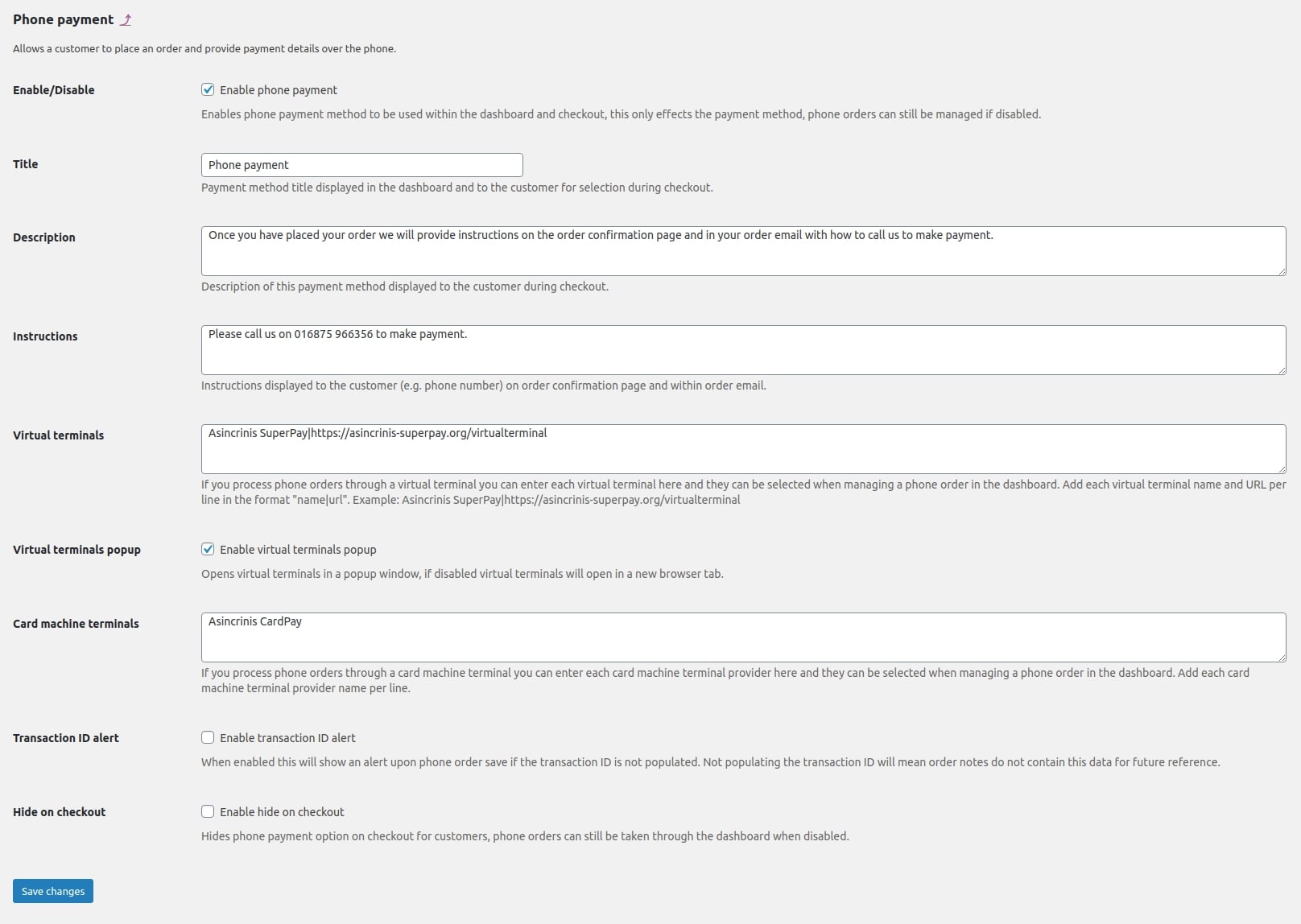 Remember to carefully read the descriptions below each field in order to avoid mistakes while typing in the data. Also, don't forget to "Save changes" to save your work!
Step 4: Flag a phone order
Whenever an order is made via mobile phone, you have to mark it differently compared to other regular orders. For this reason, the system requires the administrator to turn on the "Phone Order" toggle while adding a new order in the** WooCommerce > Orders > Add Order** section:
You will notice the option to accept payment under the "Billing" header if you have virtual terminals and/or card machine terminals enabled in Settings. When consumers visit the website and choose to checkout with the option of paying by phone, it is also possible for them to choose for paying via the website (this can be disabled through the settings if required)
Once you have done all the steps above, this is how your customers can see the "Phone Payment" alternative on your checkout page:

3 best plugins for managing WooCommerce phone orders
Mostly, e-tailers will need to buy an extension to set up WooCommerce phone orders option for their online store. Hence, we have picked out the top 3 best plugins when it comes to this feature based on their popularity, customer reviews and efficiency:
Phone Orders & Payments
Up to the present, Phone Orders & Payments by 99w is one of the most well-known WooCommerce phone orders plugin. We also used this for the tutorial today. Managers may flag phone orders, establish a phone order payment method, utilize any virtual terminal for payment, accept payment via a card machine terminal, modify order statuses, give customers the option to pay by phone during checkout, and filter orders by phone. Moreover, this extension also makes it possible for shop owners to see every phone and online order in one location, eliminating the need to move between different phone order management systems/paperwork and WooCommerce.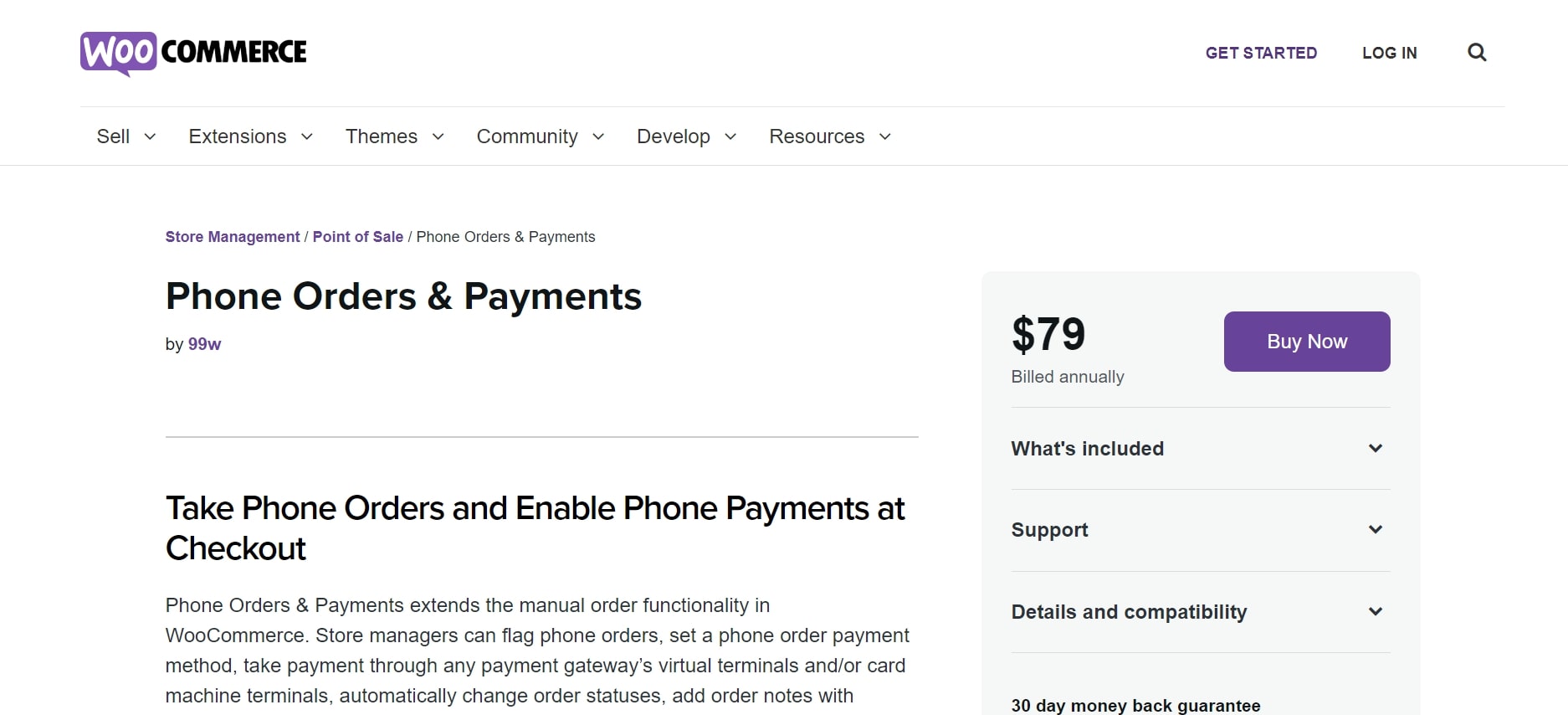 Outstanding features
The availability of virtual and/or card machine terminals for phone payments
A phone order description may be entered when editing or during entry/edit and contains terminal and transaction information.
Hiding the phone payment option in the checkout steps
Ensure that a transaction ID has not been filled while saving an order.
Make sure phone instructions are shown to clients while they are checking out and after the order has been submitted.
Phone orders for WooCommerce

Another promising plugin that you can hardly miss out on is Phone orders for WooCommerce. The plugin is designed with the aim to shorten the time it takes to manually add phone orders in the WooCommerce backend.
Outstanding features
Save up time for searching through current clients or adding new consumers.
Place autofill for address automatically.
Offering free delivery.
Log-generated orders were created.
Auto finds the function that allows you to combine several coupons.
Product Table Pro
Product Table Pro not only helps users quickly add manual orders but also manage phone orders more effectively. This specific plugin gives them the opportunity to build a dynamic, front-end WooCommerce order form that their customers only see. Orders may then be placed by salespeople, who will no longer have to log out of their own accounts. This is extremely important for those handling WooCommerce phone orders.
Outstanding features
Dynamic, front-end order forms on WooCommerce.
Quickly add items to the shopping basket without going to individual product pages.
Use the order form or a quick-view lightbox to choose product variants.
Distinct hidden page for WooCommerce phone orders only.
The ability to gather orders via email, paper form, or even live chat.
Final thoughts
In conclusion, we hope that this article on How to create WooCommerce phone orders will gain you a better insight into how it can benefit your online business and make full use of the available features.