According to research done by many organizations, the average shopping cart abandonment rate is approximately 70%. So think about that for a moment; if your site, for example, currently converts 1000 customers a month, you are missing out on another 3000 who abandoned their carts. If you can improve your checkout rate by just 10%, the result would be over three hundred extra purchases a month.
Would those additional customers have a noticeable impact on your business? You have your answer! That is why in this article, we will inform you about How to check abandoned carts in WooCommerce, along with some essential plugins that can boost your sales. So, do not hesitate and let us dive in.
Retainful: An overview
Abandoned carts are always a massive problem for every online business. However, WooCommerce did not consume any built-in features to solve this problem. Fortunately, we still have other third-party plugins that can send, check and recover your abandoned carts. And one of them is Retainful.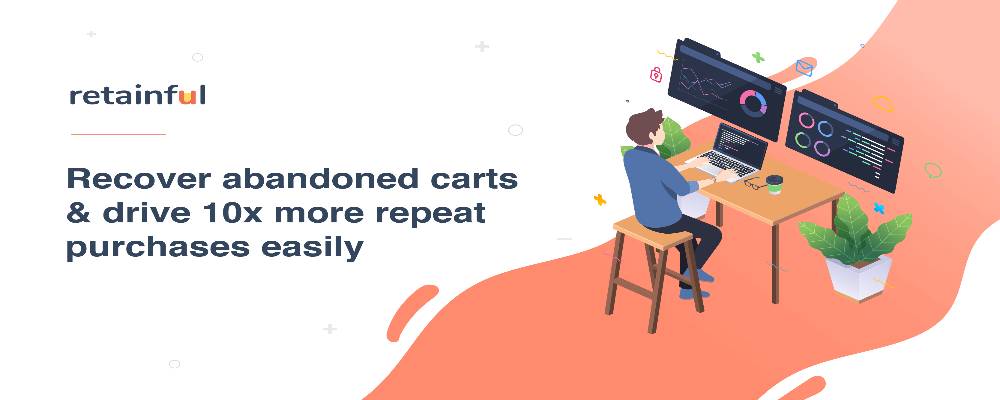 Retainful is a free plugin with powerful features and tools that aims to help grow your online business. On WooCommerce, Retainful is a great tool to track and gather customer addresses and create new chances to recover your abandoned carts. It offers you automatic one-click cart recovery links, some coupons to entice customers to finish their orders, and a clear and simple summary of the abandoned cart. Moreover, this plugin also provides many options to customize your emails and enhance your conservation rate.
Get started to check your abandoned carts in WooCommerce with Retainful
Today's tutorial will show you how to check abandoned carts in WooCommerce with Retainful conveniently and efficiently.
Step 1: Install the free plugin
First and foremost, we need to install and activate Retainful. On your WordPress dashboard, navigate to the Plugins tab, then head to the Add new option. You will see that Searching page displayed on the main screen. On the top of the page, look for the Search plugins blank box on the right. Now, fill in the box with "Retainful" to find the plugin.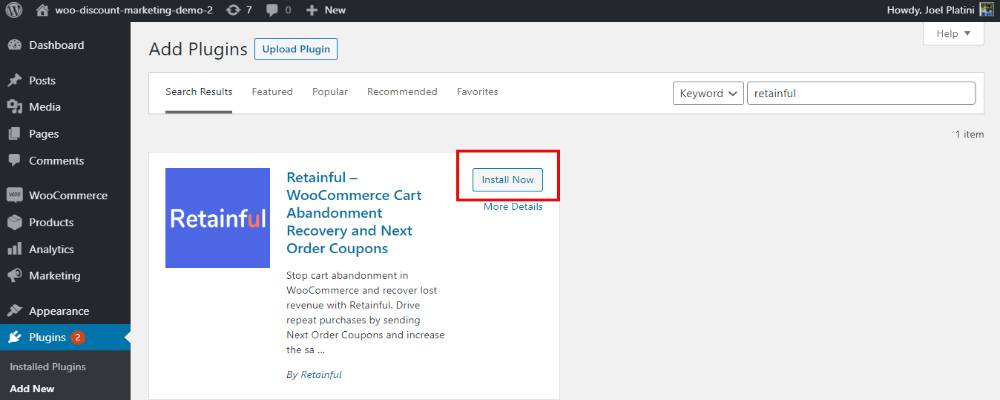 Click on the Install Now button to download Retainful to your plugin storage. After the download process is finished, you will need to activate the plugin. Tick on the blank box to let the tool access your system. When the Retainful icon is placed on the WooCommerce plugins section, your extension is now available.
Step 2: Customize the "Abandoned Carts" default setting
Before checking your data, you should consider defining what type of customers will be marked as "abandoned." You need to specify the category to let your abandonment recovery system work effectively.
To do this, follow the steps below:
Step 1: Looking for the Settings tab on the Retainful main dashboard.
Step 2: Navigate to the Abandoned Carts section. Then, you need to set a time limit to let the system know when a cart is abandoned. Typically, it could be between 15 minutes and an hour.
Step 3: On the next option, tick on the Yes box if you want WooCommerce notifications available when a cart is recovered. On the other hand, tick the No box.
Step 4: Scroll down to the Mark duplicate carts option and tick on the Yes box to customize the time limit of the duplication carts.
Step 5: Set your appropriate time based on your business's strategy.
Step 6: Check your overall setting and click on the Save button to modify your data.

Step 3: Check your data of abandoned carts
After setting specific criteria for your cart, Retainful will be able to provide you with a straightforward dashboard with detailed data. To check your abandoned carts in WooCommerce, follow these steps:
Step 1: On your WordPress dashboard, head to the Retainful plugins and open its manual section.
Step 2: Navigate to the Carts tab of the plugin and look for the Filter By section.
Step 3: Click on the Abandoned Carts option to open the detailed data table
Step 4: Now, you can see the list of WooCommerce abandoned cart details that come with a date, customer's name, and total value. There is also a Cart ID column that Retainful automatically adds.

3 Best premium plugins to check abandoned carts in WooCommerce
Retainful is the top-notch choice when it comes to checking abandoned carts in WooCommerce. However, we will introduce three more amazing plugins that could be add-ons for your online business.
Abandoned Cart Pro
Abandoned Cart Pro gives start owners the ability to check and recover sales with eCommerce lost to abandon shopping carts by log-in customers and visitors. It is an ideal tool for your conversion rate optimization efforts. If a user leaves their cart on their way out for any reason, you can redirect them to your online store using this plugin. The plugin has many additional features and options, which we will save for the features section below. Abandoned Cart Pro is the only plugin you will need to recover abandoned carts like a pro when it comes down to it.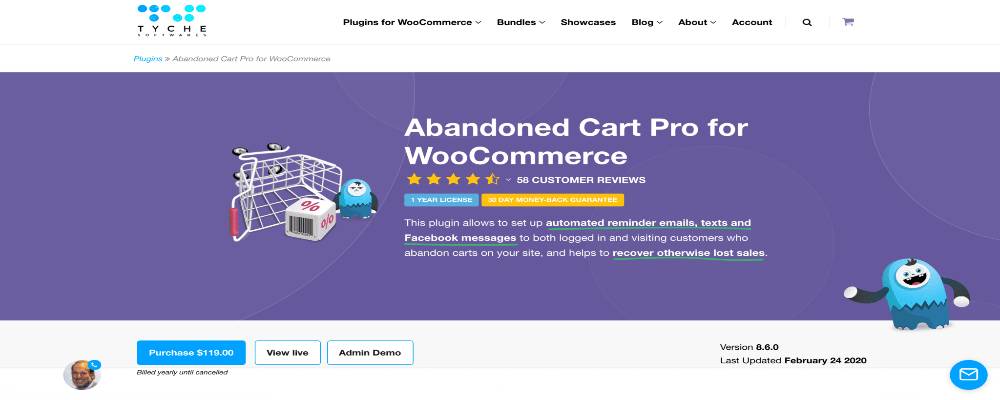 Outstanding features:
Ability to send abandoned cart reminders to potential buyers in an order and effective way
Detailed and precise data reports that will help to follow up on your abandonment
Intuitive and friendly interface
Ability to connect along with various devices
Creating automatically coupon codes that will enhance the conversion rate
Numerous built-in features with innovative templates
Price: With those outstanding features, Abandoned Cart Pro offers an affordable price. It will cost about $119 for a single store and $199 for a connection of five. If you launch a big online business with multiple stores, it will be $249 for the unlimited license.
Cart Reports
Cart Reports is a WooCommerce extension developed by WP Back Office. This plugin offers real-time monitoring of customers' abandonment and provides powerful tools to manage your online store efficiently. It also has a function to report and analyze abandoned cart data. In addition, because it was built for WooCommerce, Cart Reports has excellent integration with various eCommerce extensions.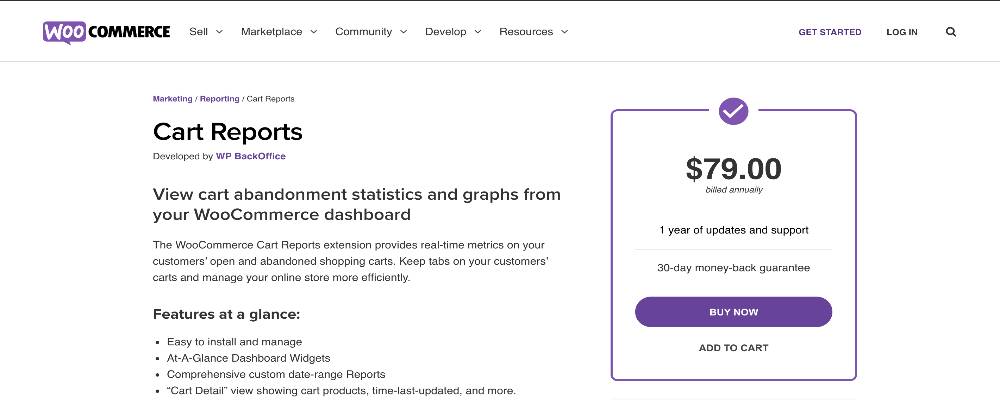 Outstanding features:
Safe and secure for online payment methods
Easy, intuitive, and simple user interface
Provide comprehensive and detailed data reports
Specify criteria for different types of data analysts purposes
Ability to view cart abandonment statistics and graphs
Price: Cart Reports offers a full-functionality plan at $79. After purchasing, you will receive one year of updates and support and a 30-day money-back guarantee.
AutomateWoo
AutomateWoo is a WooCommerce plugin that helps businesses grow by increasing conversions and retaining customers through automated marketing. It has the tools required to expand stores and boost more sales. This plugin provides many email templates that can be sent immediately for WooCommerce transactional. It is also a fantastic tool to track and check customer databases on intelligent session tracking and pre-submit email capture. Last but not least, AutomateWoo is famous for detailed reports that can measure your campaigns effectively.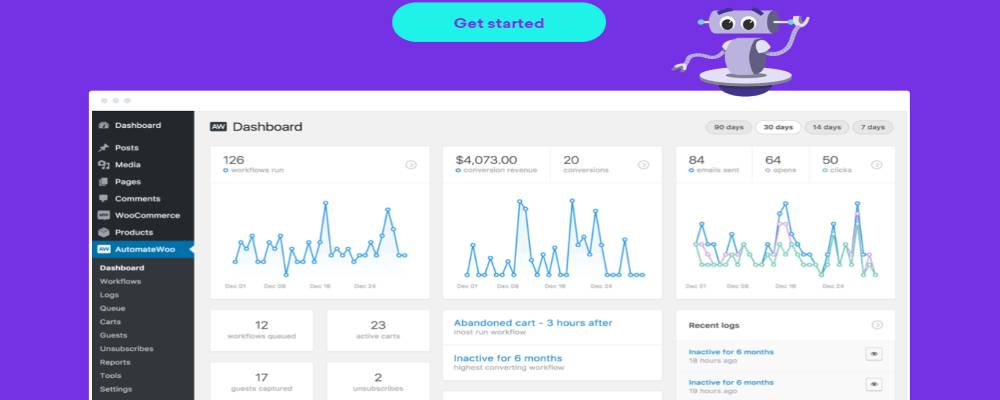 Outstanding features:
The unique system of recovery abandoned cart
Send SMS notifications automatically to customers and admins for a variety of situations
Generate customized reports
Up to date and check abandoned carts automatically
Intuitive marketing campaigns that target potential customers
Bookings and subscriptions automatically
Price: AutomateWoo offers an affordable plan at $99. After buying, you will get one year of updates, 24/7 support, and a 30-day money-back guarantee.
Conclusion
Recovering abandoned carts is one of the most effective ways to enhance your conversion rate. And for that reason, understanding fully and wisely about your customer data is an essential part of this process. A clean and detailed dashboard will give you all the information to recover and reflect on your online business in a good way.
We hope that this tutorial will help you clear your doubts about How to check abandoned carts in WooCommerce. Do not forget to check out the other valuable plugins that can help you expand and grow your online store!